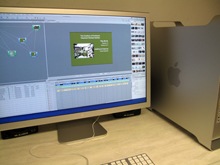 We provide Video Editing Services including Video, Slide Shows, and DVD Authoring. We can format to DVD, Blu-Ray, or Digital File such as MOV, MP4, or AVI.
Video Editing Services Available in Vancouver, WA & Portland, OR
VISUALtronics can update your existing video or help you create one from scratch. We draw from a wide variety of professional talent that is experienced in the Sales, Marketing, and Training Videos your business needs. All work is performed with the highest quality programs and equipment.
SLIDE SHOWS can be created for training purposes or for special occasions like company awards or retirement parties. Photos, slides and video clips can be added with music and graphics. SLIDE SHOWS are also popular for Wedding Videos, Class Reunion DVDs, Birthdays, Graduations, and Celebration of Life Videos.
A finishing touch for old film transfers is the addition of a story narration to generate a higher level of interest in watching them for future generations.
DVD AUTHORING creates how your DVD will work when it is played. Menus are designed, tracks and chapters assigned and the overall way you want your DVD to respond is set up. Interactive features can be added for educational and sales purposes. This works especially well for Trade Shows, Point­ of­ Purchase Applications and Museum Kiosks. The results of this process are high quality DVD Masters and CD Masters ready for duplication.
Sample Video Editing Project